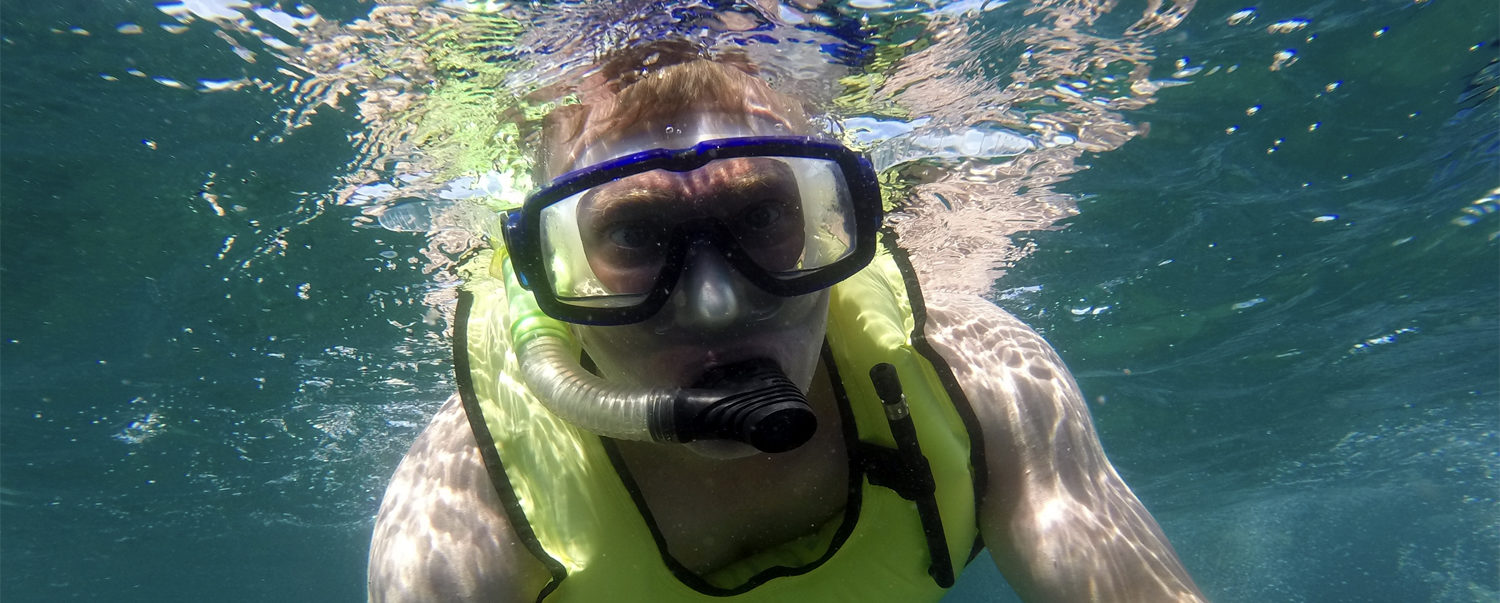 The Marietas Islands: Snorkeling & Sea Birds
The Mexican Galapagos, great opportunity to snorkel on pristine islands. A bird's Paradise above, a beautiful tropical reef fish below! HIDDEN BEACH IT'S OPEN AGAIN. In an effort to support conservation projects, space is limited, book now! Marietas Island is open to visit the great beaches with beautiful sceneries amongst blue footed boobies and other wildlife.
Marietas Islands, one of the most important wildlife sanctuaries in Mexico's Pacific coast formed long ago by volcanic activity, the archipelago are two formations of uninhabited islands– long island and round island… Dominated by large caves and cliffs, that protects coral reef, multicolored tropical fishes.
These Islands are the home of a vast colony of sea birds, such as the true pirate of the sky, the magnificent frigate bird, egrets, herons, sea gulls, pelicans, brown boobies and the world famous galapagos Blue-footed Booby. Different species of corals inhabit these areas and of course, many different species of fish enjoy the safety and productivity of the surrounding waters. You might spot King Angelfish, Panamic Sergeant Majors, Cortez Chubs, Giant Damselfish, Moorish Idol, Rainbow Wrasse, and many more.
In the round island is located the HIDDEN BEACH (Monday and tuesday is closed, access under strict control and restrictions; respecting the maximum number of persons allowed per day, no one can guarantee the entrance to the hidden beach, due the access to the hidden beach have some restrictions set by CONANP (National Commission of Natural Protected Areas), until we get to Marietas Islands (National Park) we check the availability with the guard and see if there's still spots to visit the hidden beach. ), to reach this secluded paradise, the swimmers need to go through a short tunnel and swim from the boat a distance of 200 meters. Our Marietas Islands snorkeling trip is different from other trips! We only take small groups and our trip is really focused on snorkeling and enjoying the beauty of the islands and we also tour around the island for sightseeing.
Ask for a Marietas private charter for 5hr, snorkeling gear and leader expedition included. Max. 10 guests for boat.
8:00 am Meet at Marina Vallarta (Ecotours office, Proa local # 20, Marina del Rey)

Visit the Marietas Island for 2 1/2 hrs.

1:00 pm – Back to the pier Marina
Save booking online
The Marietas Islands: Snorkeling & Sea Birds
Restriction for HIDDEN BEACH: The minimum age for entering the hidden beach is 10 years, and the maximum is 65 years.
Price per person
$110 USD
$99.00 USD
* Suitable for children over 6 years that swim.
Consider $5 USD as a special FEE, payable before boarding.
You will receive a bracelet from the environmental authorities.
Season
All year around.
Available days:
SUNDAY, WEDNESDAY, THURSDAY, FRIDAY & SATURDAY (Days subject to availability and minimum 4 passengers)
Restrictions:
All participants must know how to swim. For safety reasons, not recommended for expecting mothers, high blood pressure, people with back, heart, neck or knees problems nor kids under 6 years old.
Includes:
Maritime Transportation
Small boat ride to the Marietas Islands
2 Hours in the Marietas Island
Expedition leader English-Speaking
Snorkeling Equipment (mask, snorkel, fins, snorkeling vest)
Lunch style deli and Soft Drinks
Small &  Personalized Groups of Max. 10 guests per guide.
What to Bring:
Swimming suit, camera, sunscreen, hat, sandals, shorts and a light jacket. If you're concerned about seasickness please consult your physician or pharmacist about preventatives that might be good for you.