Support the Military Macaw Conservation Project
From Puerto Vallarta drive to the South of the Bay. Our first stop is by Los Arcos to observe magnificent
frigate birds, pelicans, blue footed and brown boobies among other sea birds. Stop on route for our
continental breakfast. Continue to the Military Macaws Sanctuary where you´ll witness the local efforts
to recover the population of this endangered species. Soft hike in the Sanctuary looking for the nests,
different birds, of course Macaws along with great views; this is a great place for birding, as well as for
photography as you learn about a great conservation effort. Our last stop will take us to Las Juntas y Los
Veranos in search of endemic deciduous forest birds, like San Blas Jay, West Mexican Chachalaca, Golden-
cheeked woodpecker, Citreoline Trogon and much more. Before returning we´ll stop to fill in our check
list and enjoy some snacks.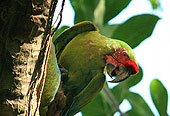 6:30 am – Marina Vallarta Pick up.  Meet at Ecotours Marina office in Marina Vallarta (Proa loc. 20)

7:00 am – Downtown Pick up. Meet lobby Cathedral hotel, (Agustin Rodriguez corner & Hidalgo # 166) We will take scenic highway # 200 South of Puerto Vallarta through a wide variety of jungle settings.

2:00 pm – Return to Puerto Vallarta
Cancellation Policies:
• Cancellations 72 hrs in advance 100 % refund
• Cancellations 48 hrs in advance 50% refund
• Cancellations the day of tour or no shows or be late, forfeit the entire amount, No refund
• Activities may be changed due to weather conditions (hurricane, storm)
• All guests are required to sign an acknowledgement of risk.
• All tours are non-refundable once taken.
Save booking online
Support the Military Macaw Conservation Project
Price per person
$115 USD
$103.50 USD
Season
Year round
Available days:
Monday, Wednesday and Friday.
Highlights
• Military Macaw Sanctuary
• Oak & Pine forest birds
• Deciduous forest birds
• Sea birds
• Great views and photo opportunities
Includes
• Group transportation in van A/C
• Expert birding bilingual guide
• Conservation Fee for Military Macaw Sanctuary
• Telescope and binoculars available
• Check list and Field guides
• Continental breakfast (coffee, sweet rolls, some fruit, juice, bottled water & granola bar)
• Snacks (Guacamole or Quesadillas & Soda or Beer)
• Bottled water where appropriate
• Travel insurance
What to Bring:
Binoculars, comfortable clothes and shoes, insect repellent, camera, hat and birding spirit are all essential!